Romantic Cake Pops
Featured Product:
Organic Cacao Powder
Shop Now
Give your loved one a gift that really POPS!
Ingredients
Cake
Chocolate Frosting
3-5
tablespoons
Double cream
Decoration
Instructions
Cake
Preheat the oven to 180C and grease a cake tin with coconut oil. In a mixing bowl, whisk the flour, sugar, cacao powder, baking soda and salt together. In a separate bowl, whisk the oil, eggs and vanilla together. Add the wet ingredients to the dry, combine then add the hot water and mix.
Pour the batter into the prepared cake tin, place in the oven for 25 to 30 minutes or until cooked through and leave to cool.
Frosting
While the cake is cooling, cream the butter in a bowl, add the icing sugar, vanilla, salt, cacao powder and two tablespoons of cream. Combine by mixing while adding more cream if necessary until the chocolate is light.
Cake Pop
Crumble the cool cake into the frosting mixture, mix until the mixture comes together. Roll 1 tablespoon of the mixture into a ball, place on to a baking sheet lined with baking paper, repeat until all the mixture has been used and place in the fridge for 2 hours.
Melt the chocolate, pour into a jug and dip the end of a stick into the chocolate, place a cake ball on the end, submerge in the chocolate, sprinkle with heart sprinkles and return to the fridge to set.
Browse more Recipes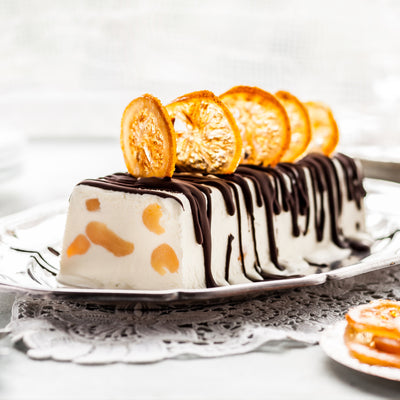 Christmas Semifreddo
Go Italian this Christmas with our Christmas Pudding Semifreddo!