Menu
Products

Culinary

Wholefoods

Superfoods

Botanicals

Oils & Tinctures

Organic

Other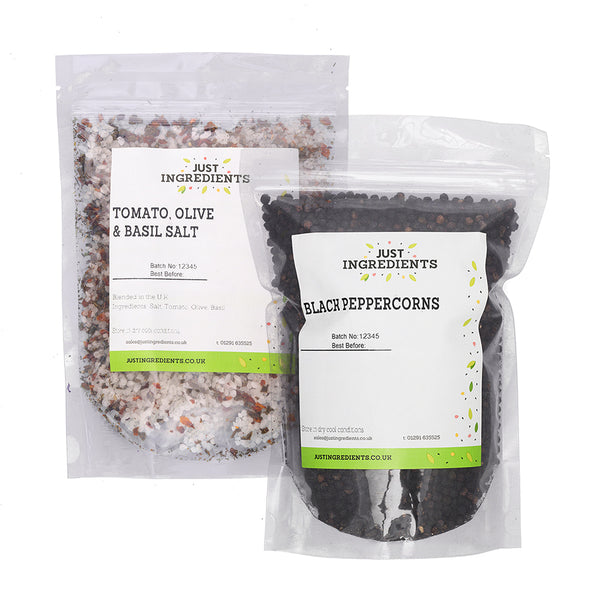 Tomato Olive Basil Salt & Pepper
Product Code: BUNTOBSAP
Product
Tomato Olive Basil Salt & Pepper
---
Info
DESCRIPTION
Product: Tomato Olive Basil Salt & Pepper

Description: You can't go wrong with this marvellous Mediterranean combo of tangy tomato, basil, olive, sea salt and pepper. Five classic culinary ingredients ready and waiting to enhance the flavour of your savoury dishes. On their own these ingredients are incredible but teamed together they form an exciting twist of flavours…
Bundle Includes:
1 x 100g Tomato Olive and Basil Salt
1 x 100g Black Peppercorns
SUGGESTED USE
Use as an everyday condiment to season meals in place of salt or use to add delightful fragrant notes to all your dishes (not just Mediterranean meals!) Mix into delicious rubs, marinades, and breadcrumb coatings, stir into couscous, vegetable, salad and pasta dishes or sprinkle into homemade bread recipes like focaccia and tomato bruschetta. Black pepper is one of THE most versatile spices out there and can be used in all kinds of savoury and sweet recipes. Whole peppercorns can be added to pickling vinegars, brines and to marinades, soups, and stocks. Try grinding peppercorns in a peppermill and add to biscuits, salad dressings and sauces or simply use as a classic condiment.
DISCLAIMER
You should always read the label before consuming or using the product and never rely solely on the information presented here.