Chocolate Pretzel Reindeer
Ingredients
Salted Pretzel Sticks
Instructions
Add the flours, yeast, 2 teaspoons of brown sugar and salt to a mixing bowl and mix in 250ml of warm water until a dough forms.
Dust a clean work surface with flour and knead the dough for 5 minutes or until smooth.
Divide the dough in to 24 pieces. Using your hands, roll each piece in to a long stick shape (see image for reference).
Place the dough sticks on to baking paper and leave to rise for an hour.
Preheat the oven to 190C. Fill a large pot with 1800ml of water and bring to a simmer. Add the baking soda and 50 grams of sugar and mix until dissolved.
Carefully drop a few of the dough sticks in to the liquid for for 15 seconds. Using tongs, remove the sticks and repeat until all sticks have been poached.
Place the sticks on to the baking paper and mix the egg and 1 tablespoon of water together. Brush the sticks with the egg wash and sprinkle on the coarse sea salt.
Bake in the oven for 30 minutes or until the sticks turn a dark golden brown colour.
Allow to cool completely before dipping half way in to melted chocolate. Snap small pretzels in half to form antlers and attach using the chocolate.
Use sweet decorations for eyes and nose to create the reindeer features. Place on to baking paper and pop in the fridge so that the chocolate solidifies.
Browse more Recipes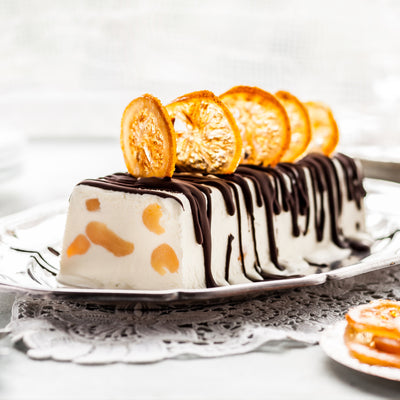 Christmas Semifreddo
Go Italian this Christmas with our Christmas Pudding Semifreddo!