Easter Bunny Iced Biscuits
Moreish Easter biscuits using natural colours only.
Ingredients
Biscuits
1/2
teaspoon
Bicarbonate of soda
2
teaspoons
Ground ginger
Icing
Instructions
Preheat the oven to 200C and line baking trays with baking paper. In a large mixing bowl, tip in the bicarbonate of soda, flour, ginger and butter and combine.
In a separate bowl, combine the egg and golden syrup and mix in to the flour mixture to form the dough. On a clean work surface that's lightly dusted with flour, roll out the dough and use rabbit shape cutters to cut the biscuits out.
Carefully place the cut outs on to the lined baking trays, leaving enough space between each biscuit. Place in the oven and bake for 10 minutes. Once the biscuits are golden brown, remove from the oven and leave to cool.
Icing
Sift the icing sugar in to a bowl a long with two to three tablespoons of water and mix. Divide the icing in to separate bowls and add a naturally colourful powder to create different shades of icing. Spread the icing on to the biscuits.
Browse more Recipes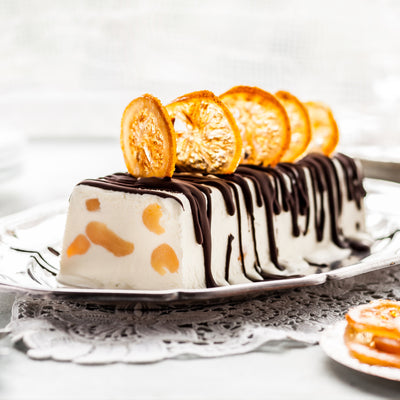 Christmas Semifreddo
Go Italian this Christmas with our Christmas Pudding Semifreddo!