Festive Glühwein
Try the German version of Mulled Wine this Christmas!
Ingredients
Instructions
Just 1-2 tablespoons of our Glühwein Spice Blend – depending how spiced you like the end result to be - will transform a bottle of red wine into a delicious warming drink; add a little sugar to taste to the wine and spices. Pop in some fresh slices of orange and warm gently, do not boil, once warmed through, pour into mugs or heat proof glasses and enjoy!
Browse more Recipes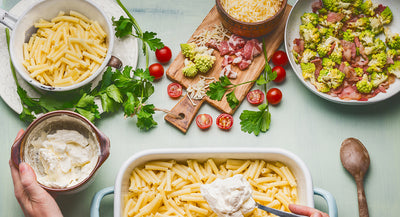 Cheesy Christmas Pasta Casserole
Liven up your leftovers with our cheesy Christmas pasta, guaranteed to be a crowd-pleaser in your home this Christmas.