Oat Chocolate Chip Cookie Jar
Give the gift of freshly baked soft and chewy chocolate chip cookies!
Ingredients
Jar
1/2
teaspoon
Ground cinnamon
Wet Ingredients
1
teaspoon
Vanilla extract
Instructions
Clean the mason jar and add the flour, baking soda, salt and granulated sugar followed by a layer of cinnamon and brown sugar then the oats and finally the chocolate chips. Seal the lid and give as a gift with the recipe below.
Pour the content of the jar into a mixing bowl. Mix in the butter followed by the egg and vanilla.
Preheat the oven to 180°C and line two large baking trays with baking paper.
Using a 1.5 tablespoon cookie scoop, scoop the dough onto the prepared baking sheets, making sure to leave a little room between each one. Gently press down each ball of cookie dough to slightly flatten them.
Bake for 10-13 minutes or until the tops of the cookies are set.
Remove from the oven and cool on the baking sheet for 5-10 minutes, then transfer the cookies to a wire rack to cool completely.
Browse more Recipes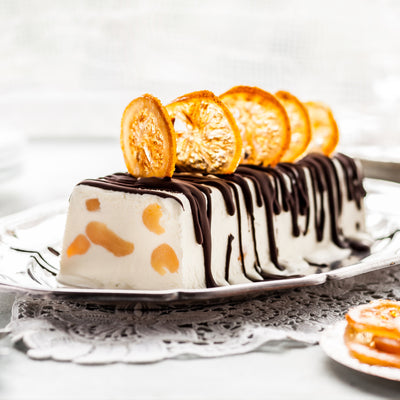 Christmas Semifreddo
Go Italian this Christmas with our Christmas Pudding Semifreddo!