Tsoureki Easter Bread 🍞
Featured Product:
Asafoetida Spice
Shop Now
Eat Greek this Easter with this traditional sweet bread recipe!
Instructions
In a bowl, add the water, yeast and a pinch of salt, cover the bowl in clingfilm and leave for 15 minutes.
Add the room temperature butter, milk and sugar to a saucepan and heat over a low heat. Mix until the sugar has dissolved and the butter has melted.
Leave the mixture to cool until room temperature then add to a large mixing bowl. Whisk in four eggs and the yeast mixture.
Sift in the flour, ground mahleb, ground star anise, ground mastic and orange zest and stir until a dough consistency forms making sure it no longer sticks to the bowl.
Wrap the dough in clingfilm, place in a warm area of the house until the dough doubles in size. This should take three to four hours.
Split the dough in to six equal pieces and roll out one piece on to a clean work surface using your hands.
Line a baking tray with baking paper and holding each side of the dough, shake the dough to stretch. Repeat this process with two more pieces of dough, lay each piece of dough on to the baking tray and plait the three pieces of dough together and leave to rise for an hour.
Whisk an egg and 1 tablespoon of lukewarm water together in a bowl. Carefully brush the top of the bread with the mixture and sprinkle almond flakes on top. Preheat the oven to 170C and bake for 50 minutes or until golden brown.
Repeat with the remaining dough for a second batch.
Browse more Recipes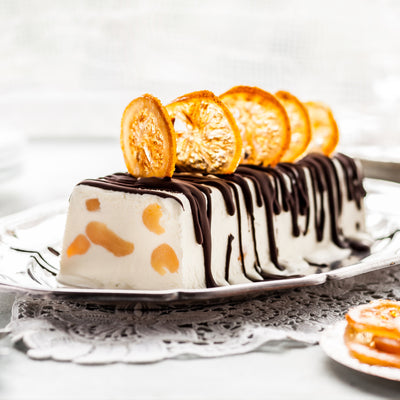 Christmas Semifreddo
Go Italian this Christmas with our Christmas Pudding Semifreddo!