Vegan Banana Bread
Bananas too ripe? No problem! Whip up this banana bread for a delicious treat.
Ingredients
Dark chocolate chips
optional
Instructions
Preheat the oven to 180C or 160C for fan assisted ovens and line a loaf tin with baking paper. Remove the skin of three bananas and max in a mixing bowl.
Tip in the oil and sugar, combine, sift in the flour and cinnamon and mix.
Pour the mixture into the prepared loaf tin, cut the final banana in half and place on top (seepicture). Place in the oven for one hour or until cooked through.
Leave to cool in the tin for 5 minutes, carefully remove the loaf and leave to cool on a cooling rack. Dust with icing sugar to serve.
Browse more Recipes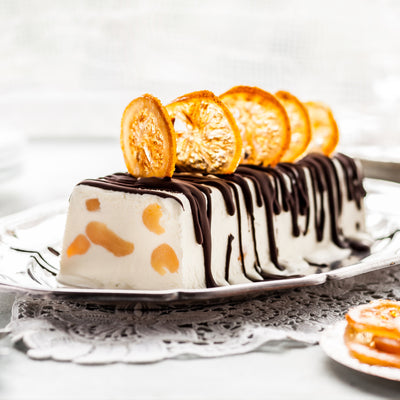 Christmas Semifreddo
Go Italian this Christmas with our Christmas Pudding Semifreddo!