Vegan Bat Cupcakes
Featured Product:
Organic Cacao Powder
Shop Now
How cute are these adorable bat cupcakes? (They are plant-based too!)
Ingredients
Cake
1
tablespoon
Apple cider vinegar
1
teaspoon
Bicarbonate of soda
Icing
Instructions
Cakes
Preheat the oven to 180C or 160C for fan assisted ovens and line a cupcake tin with cupcake cases. Combine the soya milk and cider vinegar together in a jug and leave.
In a mixing bowl, cream the sugar and margarine together. In a separate bowl sift in the flour, bicarbonate of soda, cacao powder and salt and mix.
Tip the dry ingredients into the margarine mixture and pour in the soya milk mixture. Stir together until smooth and spoon into the prepared cupcake cases and bake in the oven for 25 minutes.
Icing
While leaving the cakes to cool combine the icing ingredients and pipe on to the cool cakes. Split oreos in half and add to the icing for wings then add the googly eyes.
Browse more Recipes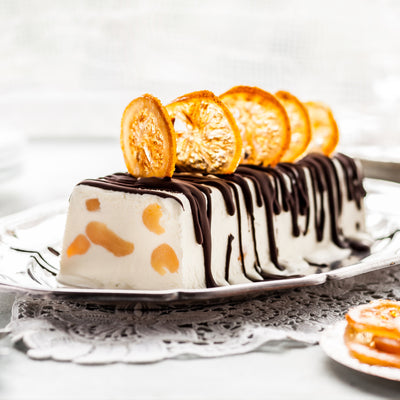 Christmas Semifreddo
Go Italian this Christmas with our Christmas Pudding Semifreddo!