Menu
Products

Culinary

Wholefoods

Superfoods

Botanicals

Oils & Tinctures

Organic

Other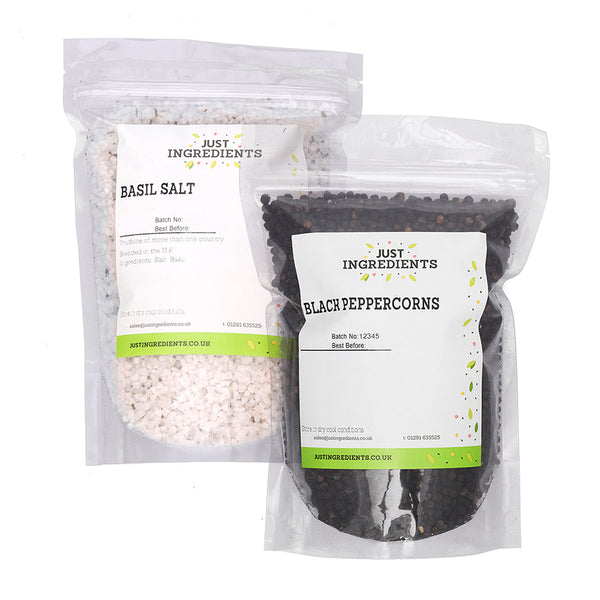 Basil Salt & Pepper
Product Code: BUNBSAP
Info
DESCRIPTION
Product: Basil Salt & Pepper

Description: If there's three ingredients every kitchen needs its aromatic basil essential sea salt and spicy peppercorns, so we thought why not combine the two to make this delicious, fragrant bundle with a robust flavour?!
Bundle Includes:
1 x 100g Basil Salt
1 x 100g Black Peppercorns
SUGGESTED USE
Be daring and different by switching everyday salt for this delicious blend, it's the perfect condiment that pairs well with ground pepper. Thanks to basil's anise-like flavour and sweet after note, this blend goes great with Italian dishes such as pasta, pizza and everything and anything tomato-based! Try as a mouth-watering rub or marinade, season potatoes prior to roasting, add to breadcrumb coatings, stir into couscous and grains and sprinkle onto roast veg! Black pepper is one of THE most versatile spices out there and can be used in all kinds of savoury and sweet recipes. Whole peppercorns can be added to pickling vinegars, brines and to marinades, soups, and stocks. Try grinding peppercorns in a peppermill and add to biscuits, salad dressings and sauces or simply use as a classic condiment.
DISCLAIMER
You should always read the label before consuming or using the product and never rely solely on the information presented here.