Menu
Products

Culinary

Wholefoods

Superfoods

Botanicals

Oils & Tinctures

Organic

Other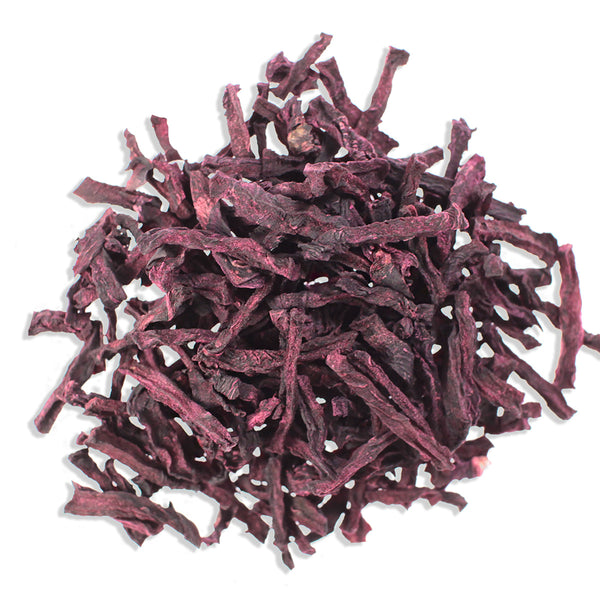 Beetroot Slices
Product Code: 08BES
Product
Info
Nutrition
Reviews
Info
Ingredients & Allergens
Beetroot
DESCRIPTION
Product: Beetroot Slices
Latin Name: Beta vulgaris
Plant Family: Amaranthaceae
Other Names: Blood Turnip, Betarraga, Beets, Betterave Rouge, Garden Beet, Red Beet, Remolacha and Scandinavian Beet.
Description: What have we got here? Tasty beetroot slices with a sweet flavour and a naturally deep purple colour!
SUGGESTED USE
Add slices of dried beetroot as a crispy garnish to salads or mix into soups, stews, and casseroles. We've packed this dehydrated root veg into resealable pouches making them perfect for camping trips... To rehydrate Beetroot Slices, pour over enough boiling water to cover and leave for 8 hours or overnight if possible. Drain and enjoy!
DISCLAIMER
You should always read the label before consuming or using the product and never rely solely on the information presented here.
Nutrition
NUTRITIONAL INFORMATION
Nutrition per 100g
Energy
1536 kJ
364 kcal
Fat
0.8g
of which saturates
0.14g
Carbohydrate
67.2g
of which sugars
67.2g
Fibre
20g
Protein
12g
Salt
1.15g
Looking for ingredients?
Click on the info tab.