Menu
Products

Culinary

Wholefoods

Superfoods

Botanicals

Oils & Tinctures

Organic

Other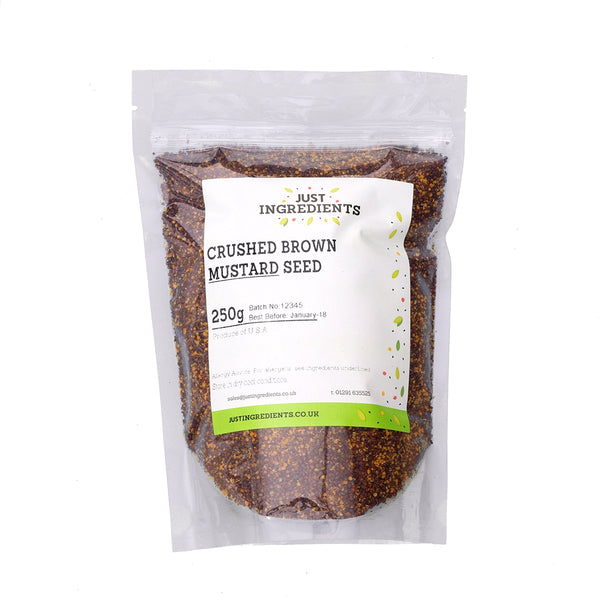 Crushed Black/Brown Mustard Seeds
Product Code: 19BMS
Product
Crushed Black/Brown Mustard Seeds
---
Info
Ingredients & Allergens
Black/Brown Mustard Seeds
Allergy Advice: Contains mustard.
DESCRIPTION
Product: Crushed Black/Brown Mustard Seeds
Latin Name: Brassica juncea
Plant Family: Brassicaceae
Other Names: Indian Mustard, Mostaza de Indias, Moutarde Brune, Moutarde de l'Inde, Schwarzer Senf, Senape Nera, Kali Sarson, Kali Rai, Sharsha, Krishnasarshapa, Sorisa, Svartsenap and Kadugu.
Description: So, you're familiar with yellow mustard seeds but what about our Black Mustard Seeds?! These brown/black crushed seeds are significantly hotter with a sharp, spicy bite which is perfect for those who love a bit more of a kick to their food. Fun fact: Black Mustard Seeds are a common ingredient in Indian cooking. Your go to curry takeaway may very well be flavoured with this delicious ingredient!
SUGGESTED USE
Forget shop bought mustard, let's make our own! Grind down these mustard seeds using water, ale, or wine to mix. Simply spoon into a bowl or jar, add your liquid of choice, and mix into a paste as thick as you like it. Leave to stand for 10 to 15 minutes for the flavour to develop, add dried herbs such as sage, tarragon or basil for extra bite add a little crushed mustard seed to finish. Been there, done that? Then add these seeds to pickles, chutneys, and curries to enhance flavour. Sprinkle into flat bread mixes, stir into rice and grain dishes, crush and sprinkle over ham, salmon, chicken, and vegetables for a strong crunch.
DISCLAIMER
You should always read the label before consuming or using the product and never rely solely on the information presented here.