Menu
Products

Culinary

Wholefoods

Superfoods

Botanicals

Oils & Tinctures

Organic

Other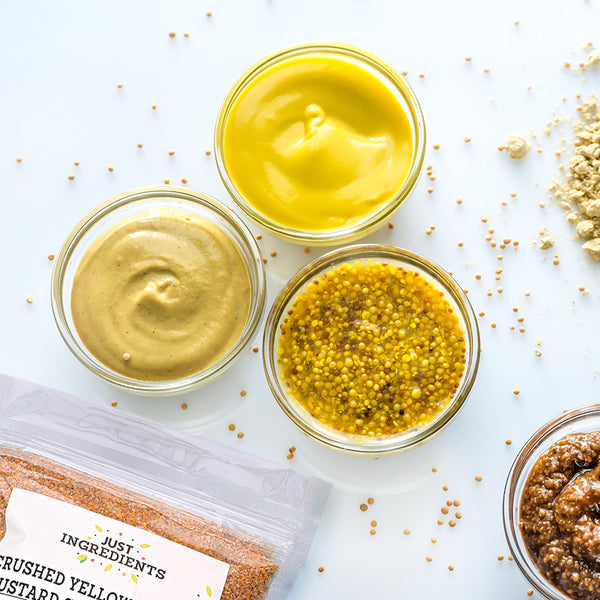 Crushed Yellow Mustard Seeds
Product Code: 19YMS
Product
Crushed Yellow Mustard Seeds
---
Info
Ingredients & Allergens
Yellow Mustard Seeds
Allergy Advice: Contains mustard. May also contain traces of gluten and soya.
DESCRIPTION
Product: Crushed Yellow Mustard Seeds
Latin Name: Brassica hirta syn. Sinapis alba, Brassica alba.
Plant Family: Brassicaceae
Other Names: White Mustard Seed, Chedleck, Witte Mosterd, Moutarde Blanche, Weißer Senf, Senape Biancha, Mostarda Branca, Muștar Alb, Mostaza Silvestre, Senfsaat, Senapsfrö, Khardal and Vayse Mustarde.
Description: Our Crushed Yellow Mustard Seeds are pretty mellow tasting, a little spicy and slightly sweet making them perfect for those who don't like their food too sharp and spicy. We give you permission to use this ingredient with a big ol' smile on your face because you know you're cooking with a high-quality ingredient!
SUGGESTED USE
No need to grab your pestle and mortar, these seeds are crushed so making homemade mustard is even easier! All you need is water, ale, or wine to mix. Simply spoon into a bowl or jar, add your liquid of choice, and mix to a paste as thick as you like it. Leave to stand for 10-15 minutes for the flavour to develop, add dried herbs such as sage, tarragon or basil a long with a little crushed mustard seeds for extra bite. Partner with cheese, pork, and dairy dishes. Alternatively, stir the crushed seeds into pickles, chutneys, and curries for extra flavour or sprinkle into flat bread mixes and stir into rice and grain dishes.
DISCLAIMER
You should always read the label before consuming or using the product and never rely solely on the information presented here.