Menu
Products

Culinary

Wholefoods

Superfoods

Botanicals

Oils & Tinctures

Organic

Other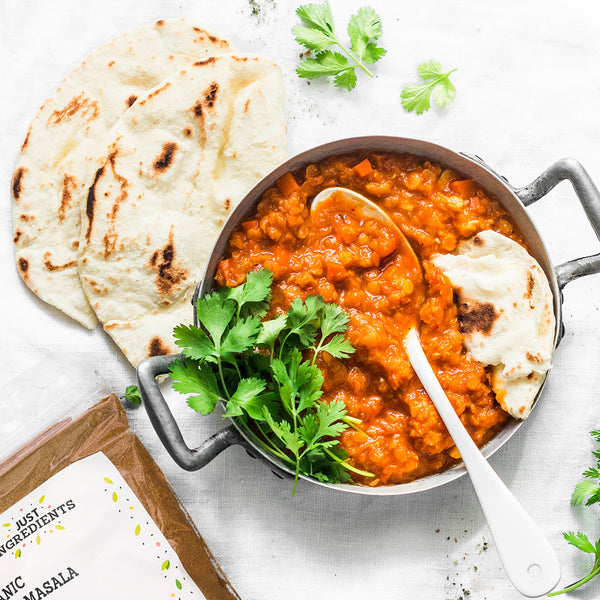 Garam Masala
Product Code: 11GM
Info
Ingredients & Allergens
Coriander Seed, Cumin Seed, Cassia, Ginger, Black Pepper, Cloves
DESCRIPTION
Product: Garam Masala
Description: We're so excited to introduce you to our Garam Masala blend! This beauty contains some of the finest spices ready ground and blended for your convenience. Our Garam Masala is a fragrant, warming, aromatic blend of ground black pepper, cinnamon, cloves, coriander, cumin, and ginger. The coriander adds a touch of spiced lemon whilst ginger brings warmth and cinnamon adds a touch of sweetness. All six spices complement each other SO well giving you a tasty, aromatic result every single time.
SUGGESTED USE
Use our Garam Masala as a base to create your own curry blend and build on it by adding chilli for heat and cardamom for additional spicy sweetness, the choice is yours! But that's not all it can do… Add to savoury bread, soup and sauce recipes and why not make your own curried beans? Simply fry off some finely chopped onion, add garam masala to taste, pour in a tin of baked beans, add a few sultanas and simmer. Serve on top of a jacket potato. Switch things up by using this blend as a condiment and sprinkle onto your finished dishes.
DISCLAIMER
You should always read the label before consuming or using the product and never rely solely on the information presented here.