Menu
Products

Culinary

Wholefoods

Superfoods

Botanicals

Oils & Tinctures

Organic

Other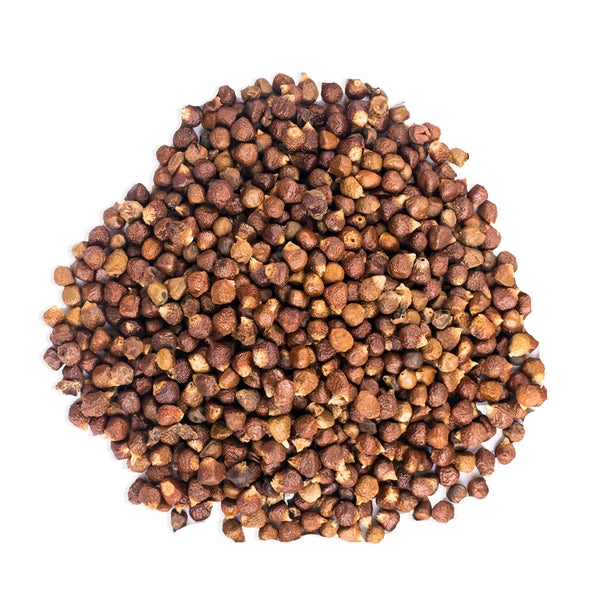 Grains of Paradise
Product Code: 09GR
Info
Ingredients & Allergens
Grains of Paradise
DESCRIPTION
Product: Grains of Paradise
Latin Name: Aframomum melegueta
Plant Family: Zingiberaceae
Other Names: Melegueta Pepper, Alligator Pepper, Guinea Grains, Fam Wusa, Ataku, Guinea Pepper, Graines de Paradis, Malaguette, Poivre de Guinée, Paradieskörner, Guineapfeffer, Grani de Meleguetta, Grani Paradisi, Kinia-Saenggang, Grãos-do-Paraíso, Sha Ren and Pimienta de Malagueta.
Description: Allow these grains to take you to paradise with their complex woody, peppery, herby flavour with a warm subtle heat. You'll find hints of ginger, cardamom, citrus, coriander, nutmeg and juniper in each little grain! The best part about Grains of Paradise? The heat builds slowly rather than being punchy and sharp like black pepper!
SUGGESTED USE
Try adding our Grains of Paradise to dishes that call for pepper when digestion may be upset by black pepper. Crush and sprinkle onto chicken, fish and veg prior to cooking or add to biscuit and cake recipes where you would use black pepper. Use to season a myriad of dishes from gingerbread and apple pie to peanut soup and sirloin steak!
DISCLAIMER
You should always read the label before consuming or using the product and never rely solely on the information presented here.