Menu
Products

Culinary

Wholefoods

Superfoods

Botanicals

Oils & Tinctures

Organic

Other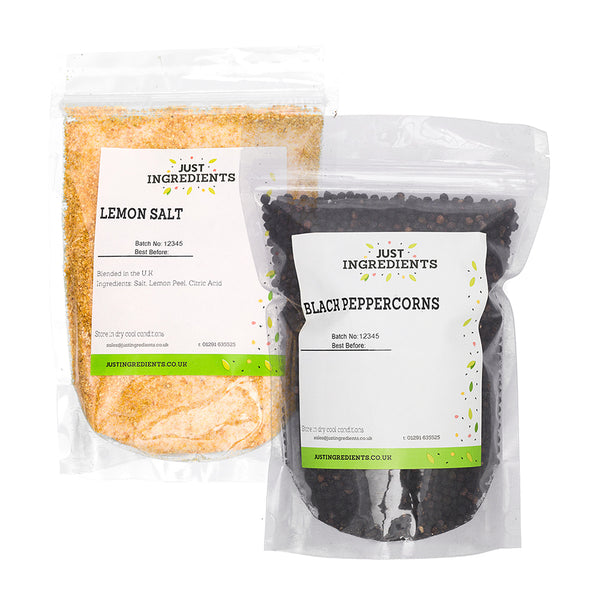 Lemon Salt & Pepper
Product Code: BUNLSAP
Info
DESCRIPTION
Product: Lemon Salt & Pepper

Description: Once this tangy blend of lemon zest and finely ground sea salt makes its way into your kitchen, you'll wonder how you ever lived without our zingy Lemon Salt! Our popular Black Peppercorns are included in this bundle so you'll receive a match made in heaven at even better prices…
Bundle Includes:
1 x 100g Lemon Salt
1 x 100g Black Peppercorns
SUGGESTED USE
Simply swap everyday salt for this seriously sensational salt blend with a twist! Add delightful citrus seasoned accents to meat, fish and veg, mix into breadcrumb coatings, or stir into couscous, pasta, and salad recipes. Black pepper is one of THE most versatile spices out there and can be used in all kinds of savoury and sweet recipes. Whole peppercorns can be added to pickling vinegars, brines and to marinades, soups, and stocks. Try grinding peppercorns in a peppermill and add to biscuits, salad dressings and sauces or simply use as a classic condiment.
DISCLAIMER
You should always read the label before consuming or using the product and never rely solely on the information presented here.