Menu
Products

Culinary

Wholefoods

Superfoods

Botanicals

Oils & Tinctures

Organic

Other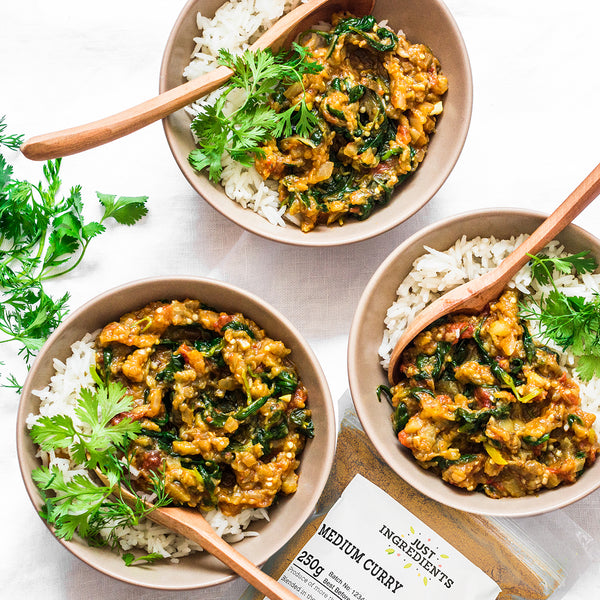 Madras Curry Powder (Medium)
Product Code: 11MED
Product
Madras Curry Powder (Medium)
---
Info
Ingredients & Allergens
Coriander, Turmeric, Fenugreek, Chilli, Sea Salt, Garlic, Fennel, Cumin, Mustard, Black Pepper
Allergy Advice: Contains mustard.
DESCRIPTION
Product: Madras Curry Powder (Medium)
Description: Our authentic Medium Curry Powder blend is a choice selection of some of the finest spices ready ground and blended for convenient cooking! Looking for a moderately robust flavour with a medium heat? Give our blend of Coriander, Turmeric, Fenugreek, Salt, Garlic, Chilli, Cumin, Fennel, Mustard and Black Pepper a try…
SUGGESTED USE
To make a delicious curry, start by making a basic curry sauce using onions, tomatoes, and stock. Sauté the onions, dry fry the Medium Curry Powder for 1 minute, tip in the tomatoes and stock and when cooked through mix in your chosen meat or veg! A pinch of this powder can be added to egg and cheese dishes, sauces and salad dressings, soups, and condiments for a slightly spicy kick. Sprinkle over fresh popcorn or potato wedges for a mouth-watering savoury snack with a twist. Bring the flavours of India to the table by mixing this authentic curry powder into breadcrumb coatings for chicken and fish.
DISCLAIMER
You should always read the label before consuming or using the product and never rely solely on the information presented here.