Menu
Products

Culinary

Wholefoods

Superfoods

Botanicals

Oils & Tinctures

Organic

Other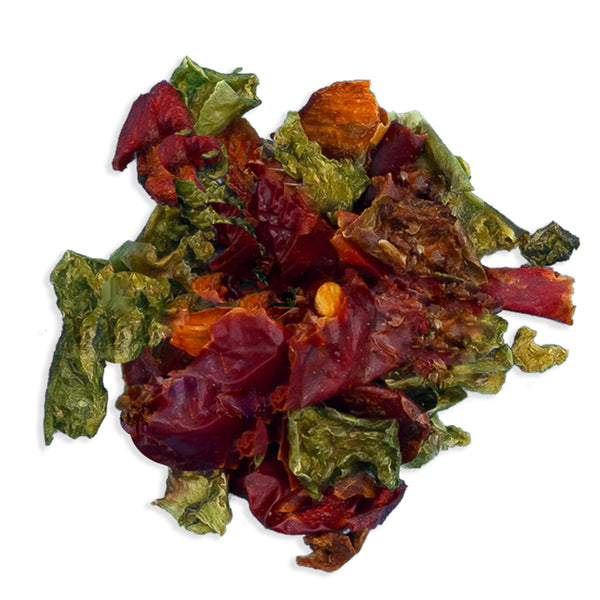 Mixed Bell Peppers
Product Code: 08MP
Product
Info
Nutrition
Reviews
Info
Ingredients & Allergens
Red Bell Peppers, Green Bell Peppers
DESCRIPTION
Product: Mixed Bell Peppers
Latin Name: Capsicum annum
Plant Family: Solanaceae
Other Names: Sweet Pepper, Capsicum, Peperfrugt, Poivron, Paprika, Peperone Dolce, Sladká Paprika, Sød Peber, Dolĉa Pipro, Pimenta Doce, Ardei Dulce, Ngọt Ngào Tiêu, Pimento and Pimiento.
Description: No more chopping, coring, and preparing bell peppers! This mixture of dried red and green bell peppers is the definition of convenient cooking… It's never been easier to get plenty of healthy veg in your diet.
SUGGESTED USE
Add directly into soups, stews, casseroles, and curries. Get creative by mixing Mixed Bell Peppers into bread dough to add a pop of colour, flavour, and texture. Take a pack on your next camping trip alongside other dried vegetables, a selection of stock and noodles for instant vegetable soup! Easy to carry and no preparation, ideal for cooking on the move… To rehydrate these pepper flakes, pour over enough boiling water to cover and leave for up to 20 minutes to soften. Mix into savoury rice, pasta, and couscous recipes.
DISCLAIMER
You should always read the label before consuming or using the product and never rely solely on the information presented here.
Nutrition
NUTRITIONAL INFORMATION
Nutrition per 100g
Energy
1331 kJ
318 kcal
Fat
17.27g
of which saturates
0.6g
Carbohydrate
56.63g
of which sugars
28.5g
Fibre
39g
Protein
12.01g
Salt
0.075g
Looking for ingredients?
Click on the info tab.