Menu
Products

Culinary

Wholefoods

Superfoods

Botanicals

Oils & Tinctures

Organic

Other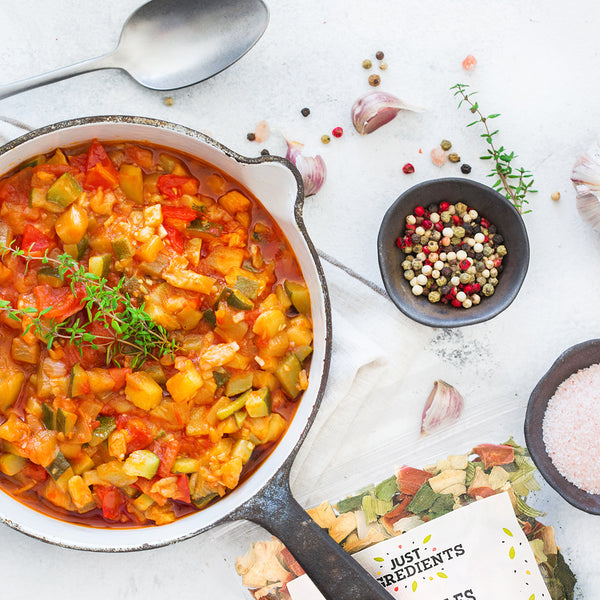 Mixed Vegetables
Product Code: 08MV
Product
Info
Nutrition
Reviews
Info
Ingredients & Allergens
Carrot, Parsnip, Leek, Onion, Celery Leaf, Tomato, Celery Root
Allergy Advice: Contains celery.
DESCRIPTION
Product: Mixed Vegetables 
Description: Eat the rainbow with a pack of our Mixed Vegetables! This tasty blend of Carrot Flakes, Parsnips, Leeks, Onions, Celery Leaf, Tomato Flakes and Celery Root is a convenient substitute for fresh veg and make a great pantry item for instant mealtimes!
SUGGESTED USE
Add directly to soups, stews, casseroles, and curries for a pop of colour, flavour, and texture! Take a pack on your next camping trip alongside noodles and stock to make an instant vegetable soup, easy to carry and require no prep, ideal for cooking on the move. To rehydrate Mixed Vegetable Flakes, pour over enough boiling water to cover and leave for up to 20 minutes to soften. Stir into rice, pasta, and couscous dishes.
DISCLAIMER
You should always read the label before consuming or using the product and never rely solely on the information presented here.
Nutrition
NUTRITIONAL INFORMATION
Nutrition per 100g
Energy
1123 kJ
269 kcal
Fat
3g
of which saturates
0.5g
Carbohydrate
32g
of which sugars
27g
Fibre
33g
Protein
12g
Salt
0.68g
Looking for ingredients?
Click on the info tab.