Menu
Products

Culinary

Wholefoods

Superfoods

Botanicals

Oils & Tinctures

Organic

Other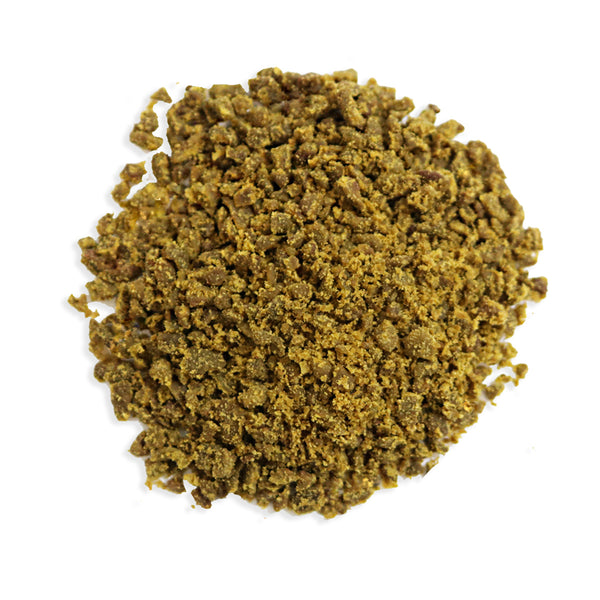 Olive Granules
Product Code: 08OL
Product
Info
Nutrition
Reviews
Info
Ingredients & Allergens
Olives, salt
DESCRIPTION
Product: Olive Granules
Latin Name: Olea europaea
Plant Family: Oleaceae
Other Names: Common Olive, European Olive, L'Olivier, Olivo, Ulivo, Mitan, Oliva, Zeytin, Zaytun, Elia, Ölbaum, Oliberi, Wild Olive, Olienhout, Mohlware, Mutlhwari & Motlhware.
Description: If your meals need a quick and easy boost of flavour then a sprinkle of our dried and crushed olives is exactly what you need! The fresh yet deep olive taste adds depths of flavour to almost any dish…
SUGGESTED USE
Mix into marinades, stir into pasta sauces or use to season salads. Get creative with Olive Granules, the opportunities are endless!
DISCLAIMER
You should always read the label before consuming or using the product and never rely solely on the information presented here.
Nutrition
NUTRITIONAL INFORMATION
Nutrition per 100g
Energy
2462 kJ
642 kcal
Fat
66.0g
of which saturates
10g
Carbohydrate
3g
of which sugars
0g
Fibre
15.5g
Protein
4.1g
Salt
12.7g
Looking for ingredients?
Click on the info tab.