Menu
Products

Culinary

Wholefoods

Superfoods

Botanicals

Oils & Tinctures

Organic

Other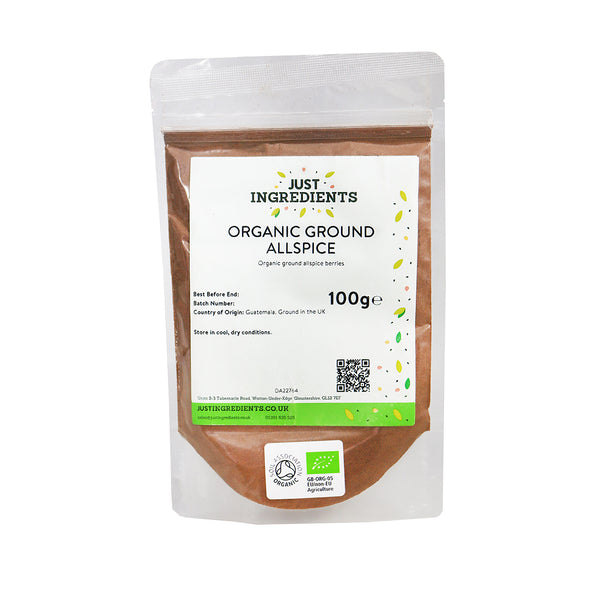 Organic Allspice - Ground
Product Code: 1611AL
Product
Organic Allspice - Ground
---
Info
Ingredients & Allergens
Organic Allspice
DESCRIPTION
Product: Organic Allspice, Ground 
Latin Name: Pimenta dioica syn. Pimento officinalis. 
Plant Family: Myrtaceae 
Other Names: Jamaica Pepper, Clove Pepper, Myrtle Pepper, Pimento, Newspice, Tout-Épice, Piment Poivre de la Jamaïque, Jamaikapfeffer, Pimiento de Jamaica, Aromatopeperi, Pepe di Giamaica and Guayabita.
Description: Combine the flavours of cinnamon, nutmeg, cloves, and pepper, grind them together and that's essentially what our Organic Ground Allspice tastes like (but with a lot less fuss!)
SUGGESTED USE
The secret key ingredient in Caribbean jerk seasoning? You guessed it! Use in both sweet and savoury dishes such as stuffing, nut roasts, stews, casseroles, sausages, sauces, jams, and pickles or add to bread, cakes, and biscuits. Feeling festive? Add Ground Allspice to mulled wine and spiced cordials this winter…
DISCLAIMER
You should always read the label before consuming or using the product and never rely solely on the information presented here.