Menu
Products

Culinary

Wholefoods

Superfoods

Botanicals

Oils & Tinctures

Organic

Other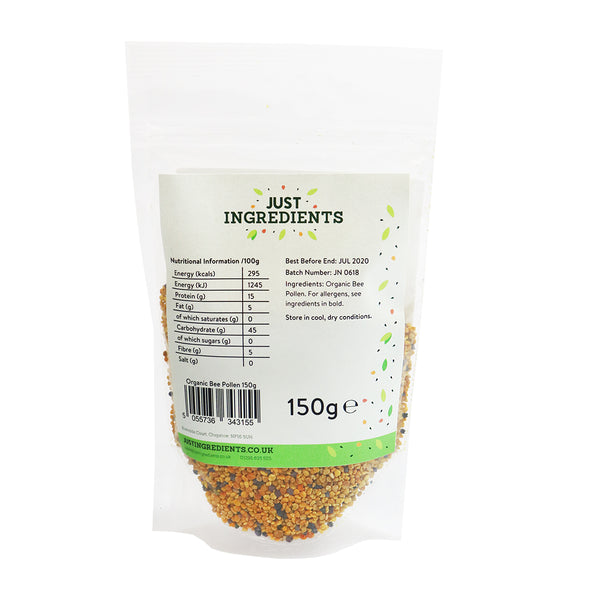 Organic Bee Pollen
Product Code: 1625BEE
Product
Info
Nutrition
Reviews
Info
Ingredients & Allergens
Organic Bee Pollen
DESCRIPTION
Product: Organic Bee Pollen 
Other Names: Pollen d'Abeille, Honeybee Pollen, Polen de Abeja, Pollen, Pollen d'Abeille, Pollen d'Abeille de Miel, Pollen Pini, Puhuang, Sonfuuafen and Pollen de Sarrasin.
Description: Come rain or shine, bring a burst of sunshine to your day with the sweet and floral superfood known as "nature's perfect food" … It's our Organic Bee Pollen of course! It's believed that this natural ingredient offers the most comprehensive range of trace elements minerals including copper, potassium, iron, magnesium, zinc, amino acids and vitamins including B-complex A, C, D and E but we just love the taste and pop of colour!
SUGGESTED USE
Get our beautiful Bee Pollen into your smoothies, sauces, and dressings STAT! (We highly recommend adding to honey mustard dressings). Stir into bread and cake recipes that include honey or mix into yoghurt, sprinkle on breakfast cereal, and stir into pasta dishes. Some say that once dissolved and mixed into lotions, creams and salves, Bee Pollen may even sooth eczema.
DISCLAIMER
You should always read the label before consuming or using the product and never rely solely on the information presented here.
Nutrition
NUTRITIONAL INFORMATION
Nutrition per 100g
Energy
1508 kJ
358 kcal
Fat
6g
of which saturates
1.6g
Carbohydrate
50.3g
of which sugars
36.5g
Fibre
12g
Protein
19.7g
Salt
0g
Looking for ingredients?
Click on the info tab.