Menu
Products

Culinary

Wholefoods

Superfoods

Botanicals

Oils & Tinctures

Organic

Other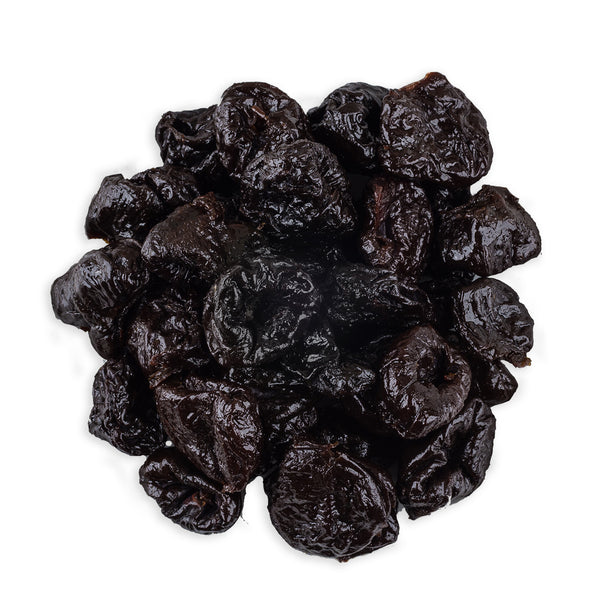 Organic Pitted Prunes
Product Code: 1625PRU
Product
Info
Nutrition
Reviews
Info
Ingredients & Allergens
100% Organic Dried Prunes
DESCRIPTION
Product: Organic Pitted Prunes
Latin Name: Prunus domestica
Plant Family: Rosaceae
Other Names: Blue Plum, Damask Plum, Sugar Plum, and Zwetschge.
Description: Unleash your taste bud's wildest dreams with our Organic Pitted Prunes! Bursting with tangy sweetness and heavenly chewiness, these all-natural prunes are your passport to a flavour adventure. Packed with fibre and antioxidants, they're nature's secret to a happy tummy. Snack like a star and embark on a plumtastic journey with our irresistible prunes. It's prune time, baby!
SUGGESTED USE
Level up your snack game with a playful twist! Grab a handful of our Soil Association certified pitted prunes and turn them into "Prune Pops" – the ultimate fruity fuel for your adventures! Simply slide these chewy delights onto skewers, dip them in melted dark chocolate, and roll them in crushed nuts or sprinkles. Freeze them for a tasty frozen treat that will make your taste buds dance with delight. Prunetastic fun awaits!
DISCLAIMER
You should always read the label before consuming or using the product and never rely solely on the information presented here.
Nutrition
NUTRITIONAL INFORMATION
Nutrition per 100g
Energy
878 kJ
210 kcal
Fat
0.4g
of which saturates
0.1g
Carbohydrate
68g
of which sugars
51g
Fibre
7g
Protein
2g
Salt
0.23g
Looking for ingredients?
Click on the info tab.