Menu
Products

Culinary

Wholefoods

Superfoods

Botanicals

Oils & Tinctures

Organic

Other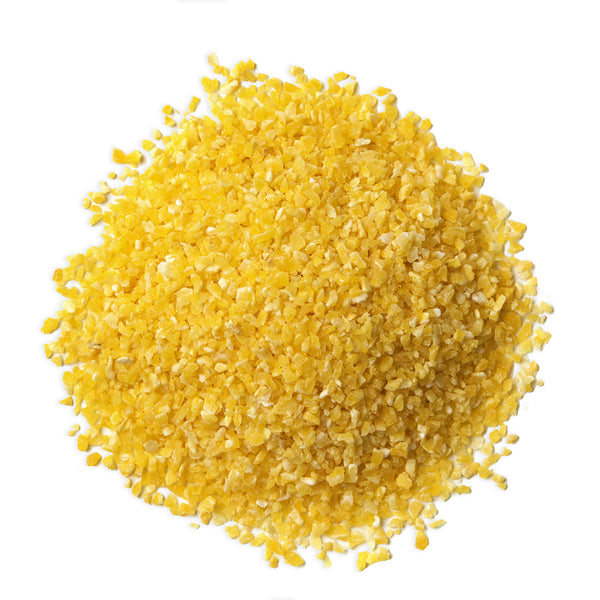 Organic Polenta
Product Code: 1625POL
Product
Info
Nutrition
Reviews
Info
Ingredients & Allergens
Organic Maize
DESCRIPTION
Product: Organic Polenta
Latin Name: Puls
Plant Family: Grasses 
Other Names: Italian porridge and cornmeal.
Description: Polenta is simply dried maize that can be served as a porridge or solidified into a loaf that can be baked fried or grilled. When boiled in water and mixed with butter our 100% Organic Polenta makes a healthier replacement for creamy mash (you can even make your own homemade healthy chips!) Not looking for savoury alternatives? Then give your sweet desserts an authentic Italian flavour by baking fruity polenta cakes.
SUGGESTED USE
To prepare Polenta you need: 950ml of water, 130g of Polenta, 1 teaspoon of Salt, 2 tablespoons of butter and fresh ground black pepper to taste. Boil the water, slowly whisk in the polenta until thick, add the salt, reduce the heat, stir occasionally and cook for 20 minutes. Remove from the heat, stir in the butter and season with salt and pepper.
DISCLAIMER
You should always read the label before consuming or using the product and never rely solely on the information presented here.
Nutrition
NUTRITIONAL INFORMATION
Nutrition per 100g
Energy
1494 kJ
352 kcal
Fat
1.5g
of which saturates
0.32g
Carbohydrate
77.4g
of which sugars
0.82g
Fibre
1.9g
Protein
6.3g
Salt
0.0002g
Looking for ingredients?
Click on the info tab.