Menu
Products

Culinary

Wholefoods

Superfoods

Botanicals

Oils & Tinctures

Organic

Other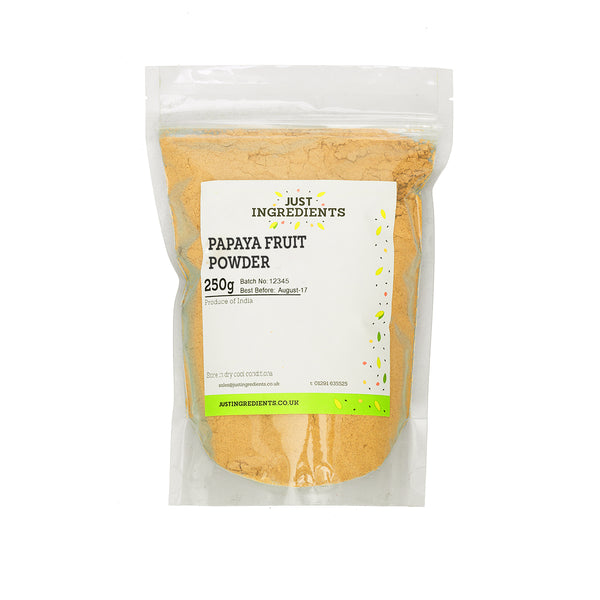 Papaya Fruit Powder
Product Code: 07PAP
Product
Info
Nutrition
Reviews
Info
Ingredients & Allergens
Papaya Fruit
DESCRIPTION
Product: Papaya Fruit Powder
Latin Name: Caricaceae
Plant Family: Carica papaya
Other Names: Banane de Prairie, Caricae Papayae Folium, Carica papaya, Carica peltata, Carica posoposa, Chirbhita, Erandachirbhita, Erand Karkati, Green Papaya, Mamaerie, Melonenbaumblaetter, Melon Tree and Papaw.
Description: You don't often come across a papaya in your local supermarket which is a shame because the pear-like fruit has plenty of health benefits! That's why we're proud to present you with this delicious mild yet sweet powder… (It makes getting your hands on Papaya a lot easier).
SUGGESTED USE
Give your juices, smoothies, and teas that extra oomph with a teaspoon or two of this powerful Papaya Powder!
DISCLAIMER
You should always read the label before consuming or using the product and never rely solely on the information presented here.
Nutrition
NUTRITIONAL INFORMATION
Nutrition per 100g
Energy
1548 kJ
365 kcal
Fat
0.5g
of which saturates
0g
Carbohydrate
86.2g
of which sugars
31.3g
Fibre
4.5g
Protein
2.1g
Salt
0.49g
Looking for ingredients?
Click on the info tab.