Menu
Products

Culinary

Wholefoods

Superfoods

Botanicals

Oils & Tinctures

Organic

Other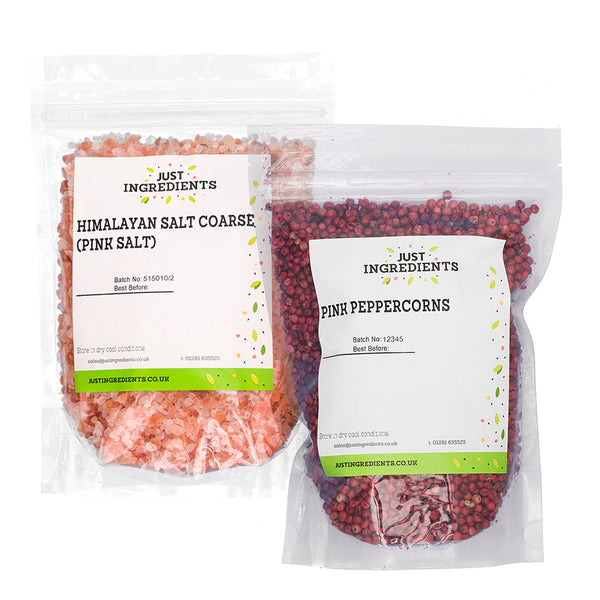 Pink Salt & Pink Pepper
Product Code: BUNPSAPP
Info
DESCRIPTION
Product: Pink Salt & Pink Pepper

Description: Please welcome this perfectly pink bundle… It's difficult not to romanticise Pink Peppercorns because these spicy berries are simply perfect! What's more, these little pink jewels have a rose-like scent and a more rounded pepperiness than everyday peppercorns. In fact, they lend food a different kind of heat, closer to chillies but with the same peppery bite, wrapped in a sweet fruity flavour reminiscent of a berry with serious attitude! Ideal for salt mills and grinders, gourmet chefs believe that Himalayan Salt gives a better texture and flavour to dishes than conventional table salt does, making our course pink salt an essential and attractive ingredient for your kitchen. A match made in heaven!
Bundle Includes:
1 x 100g Pink Peppercorns
1 x 100g Coarse Pink Himalayan Salt
SUGGESTED USE
Stir into peppercorn sauce and serve with steak or make your own pepper blend by adding to your pepper mills at home. Mix into salad dressings, marinades, vinegars, and fruit syrups or use to garnish gin cocktails! Simply use as a condiment at the table instead of everyday table salt and use to season your culinary creations. Pink Himalayan Salt can even be used in the tub! Simply throw in the bath for a detoxifying soothing Himalayan Salt bath.
DISCLAIMER
You should always read the label before consuming or using the product and never rely solely on the information presented here.