Menu
Products

Culinary

Wholefoods

Superfoods

Botanicals

Oils & Tinctures

Organic

Other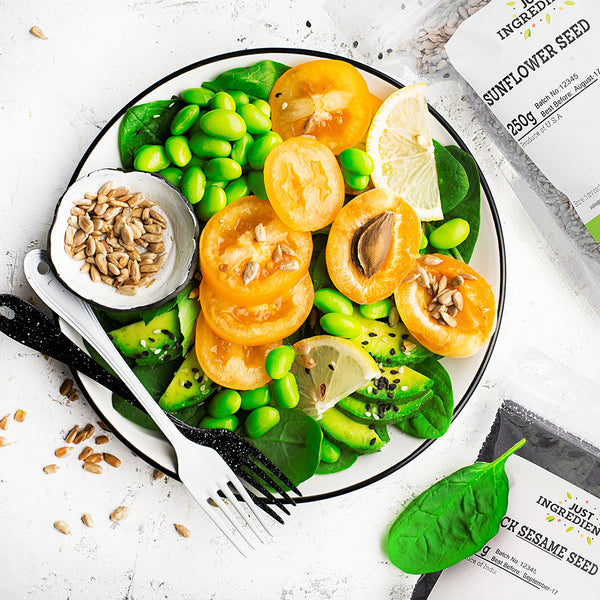 Sunflower Seeds
Product Code: 13SU
Product
Info
Nutrition
Reviews
Info
Ingredients & Allergens
Sunflower Seeds
DESCRIPTION
Product: Sunflower Seeds
Latin Name: Helianthus annuus
Plant Family: Asteraceae
Other Names: At Mirasol Buto, Bunga Matahari, Graines de Tournesol, Semillas de Girasol, Semi di Girasole, Och Solrosfrön, Sonnenblumenkernen, Surya Mukhi, Słonecznika & Zonnebloempitten.
Description: Those big yellow summer flowers don't half create some tasty seeds! Sunflower Seeds are famous for their mild, nutty flavour and a firm yet tender texture.
SUGGESTED USE
Coat the seeds in a seasoning of salt, cayenne pepper, garlic or dry barbecue seasoning and roast to enhance the flavour or simply eat them raw as a nutritious snack! Sprinkle into healthy cereals, porridge and smoothie bowls or bake into breads, cakes, flapjacks, and nut roasts. Mix Sunflower seeds into stir fries, homemade veggies burgers and salads for extra texture or use to make your own nut butter.
DISCLAIMER
You should always read the label before consuming or using the product and never rely solely on the information presented here.
Nutrition
NUTRITIONAL INFORMATION
Nutrition per 100g
Energy
2519 kJ
609 kcal
Fat
51.46g
of which saturates
4.455g
Carbohydrate
11.4g
of which sugars
2.62g
Fibre
10.5g
Protein
20.78g
Salt
0.023g
Looking for ingredients?
Click on the info tab.