Menu
Products

Culinary

Wholefoods

Superfoods

Botanicals

Oils & Tinctures

Organic

Other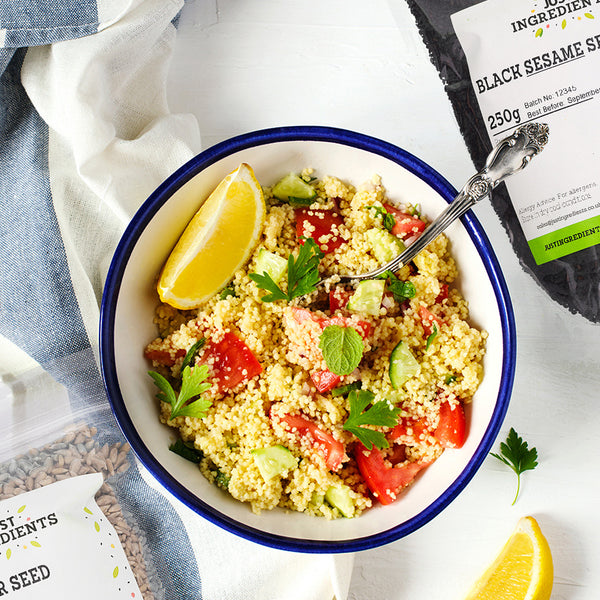 Wholemeal Couscous
Product Code: 25COWH
Product
Info
Nutrition
Reviews
Info
Ingredients & Allergens
Durum Wheat
Allergy Advice: Contains gluten. May also contain traces of soya.
DESCRIPTION
Product: Wholemeal Couscous
Latin Name: Wheat 
Other Names: Durum Wheat, Cuscus, Kuskus and semolina.
Description: Everybody requires fibre in their diet which is why you need Wholemeal Couscous in your kitchen cupboards! Some believe Wholemeal Couscous is even more nutrient rich than the regular variety because it's made with the finest quality whole durum wheat. Your super easy health journey starts here…
SUGGESTED USE
Wholemeal Couscous makes a great addition to vegetable stews, roasted vegetable salads, stuffed veg and any nutritious dish that needs bulking up!
DISCLAIMER
You should always read the label before consuming or using the product and never rely solely on the information presented here.
Nutrition
NUTRITIONAL INFORMATION
Nutrition per 100g
Energy
1485 kJ
350 kcal
Fat
2g
of which saturates
0.3g
Carbohydrate
68g
of which sugars
3.3g
Fibre
4.2g
Protein
13g
Salt
0.025g
Looking for ingredients?
Click on the info tab.