Menu
Products

Culinary

Wholefoods

Superfoods

Botanicals

Oils & Tinctures

Organic

Other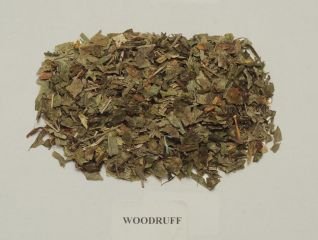 Woodruff
Product Code: 09WOO
Info
Ingredients & Allergens
Woodruff Herb
DESCRIPTION
Latin Name: Galium odoratum syn. Asperula Odorata.

Plant Family: Rubiaceae
Other Names: Aspérula, Aspérule, Galii Odorati Herba, Master of the Forest, Petit Muguet, Reine des Bois, Thé Suisse, Waldmeister, Sweet Woodruff, Wuderove, Wood-Rova & Muge-de-boys.
Description: Sweet woodruff is an herbaceous, perennial herb native to Europe, North Africa and Asia which grows to a height of 30-50cm. The leaves are 2-5 cm in length, the individual leaflets are lanceolate shaped and occur in whorls of 6 to 9 around the stem, they are bright spring green in colour when they first appear, darkening with age.  The flowers have 4-5 petals and are small with a diameter of 4-7mm, white in colour and are joined together at the base, they form clustered whorls at the tops of the stem.
Brief History: The Elizabethans used woodruff as a strewing herb, the natural coumarin that is release when the plant dries helps to repel moths, fleas and other pests; the herb was also for the same reason to stuff mattresses.
SUGGESTED USE
The leaves can be used to make tea and soaked in white wine to make a refreshing summer drink. Woodruff has insect repellent properties so can be added to pot pourri and scented sachets to help deter moths and placed in drawers and wardrobes. Another use for sweet woodruff is as a natural plant dye, its leaves produce a light brown dye and the roots a light red when used with alum as a mordant.
DISCLAIMER
You should always read the label before consuming or using the product and never rely solely on the information presented here.