One Bowl Physalis Cupcakes
Featured Product:
Organic Coconut Sugar
Shop Now
Make a batch of these plant-based cupcakes in just one bowl!
Ingredients
Cupcakes
1
tablespoon
Apple cider vinegar
1
tablespoon
Baking powder
Topping option 1:
Topping option 2:
2
tablespoons
Lemon juice
1-2
tablespoons
Plant-based milk
Instructions
Cupcakes
Preheat the oven to 170C and line a cupcake tray with cases. In a mixing bowl, combine the milk and vinegar together and leave to sit.
Beat the butter and sugar together until fluffy then add the vanilla extract. Pour in the soy milk and vinegar mixture and stir. Sift in the flour and baking powder and the salt, stir until combined then add to the cupcake cases. Place in the oven and bake for 20 to 25 minutes or until baked through. Leave the cakes to cool on a wire rack.
Topping 1:
Dust icing sugar on top of the cool cupcakes and add a physalis on top.
Topping 2:
Beat the butter until fluffy, add the icing sugar, lemon juice, zest and vanilla and beat until combined. If too thick add more milk. If too thin add more icing sugar. Pipe or spread on top of the cupcakes.
Browse more Recipes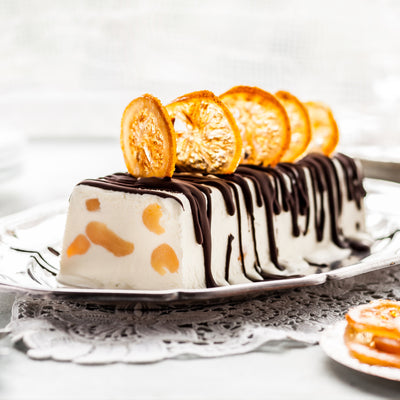 Christmas Semifreddo
Go Italian this Christmas with our Christmas Pudding Semifreddo!