Autumnal Apple Roses
These autumnal apple roses baked in puff pastry are almost too good to eat... (almost!)
Ingredients
2
tablespoons
Unsalted butter
3
tablespoons
Apricot jam
Instructions
Preheat the oven to 190C and grease a cupcake/muffin tin with coconut oil.
Squeeze the juice of one lemon in to a bowl, carefully remove the core from the apple, cut in half, slice thin slices and dip in lemon juice. Combine the butter, sugar, cinnamon and nutmeg together and use to coat the apple slices. Place the slices in a microwave for 30 seconds or until soft.
Dust a clean work surface with flour, roll out the puff pastry in to a rectangle. (Around 9 by 12 inches) cut in to six equal strips.
Place the jam in a bowl with the water, mix and microwave for 20 seconds. Spread the jam mixture a long the strips of dough, arrange the apple slices length-ways on to the strips making sure each slice slightly overlaps.
Fold the bottom of the dough, tightly roll the strips of dough to create a rose shape and press the dough to seal.
Place in the prepared tin, repeat for all strips of dough, place in the oven and bake for 40 minutes or until golden brown. Sprinkle with icing sugar to serve.
Browse more Recipes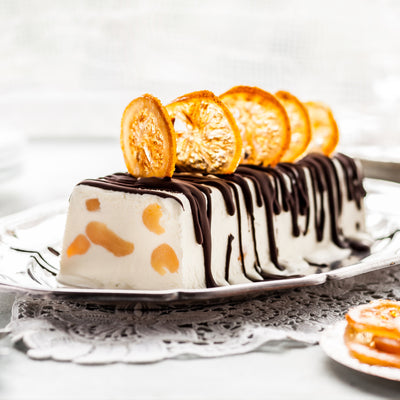 Christmas Semifreddo
Go Italian this Christmas with our Christmas Pudding Semifreddo!