Beetroot Pasta Salad
Bring a splash of colour to your plate with this bold recipe!
Ingredients
1
tablespoon
White wine vinegar
Instructions
Cook the pasta according to the packaging directions while roasting the walnuts and pine nuts in a pan over a medium heat. Remove the ingredients from the pan, add the diced onion and garlic to the pan with olive oil and heat for two minutes. Season with sage, salt and pepper and stir.
Pour any excess juice from the beetroot into the pan, slice the beetroot and add to the pan. Drizzle with white wine vinegar and combine. When cooked, drain the pasta but keep 100ml of the excess water, add the water and pasta to the pan a long with the beetroot juice and mix.
Roughly cut the rocket up, serve the pasta with rocket, feta, pine nuts, walnuts and lemon slices.
Browse more Recipes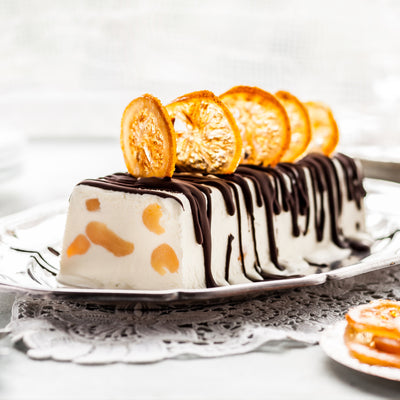 Christmas Semifreddo
Go Italian this Christmas with our Christmas Pudding Semifreddo!