Cheesy Crepe Casserole 🧀
If you love crepes then serve this delicious stacked crepe casserole for dinner!
Ingredients
2
tablespoons
Butter
melted
400
g
Cream of mushroom soup
Instructions
Preheat oven to 180C and lightly grease a baking dish. In a large bowl, mix together flour and eggs. Slowly pour in milk, and stir together. Mix melted butter into the batter mixture.
Heat 1/2 tablespoon olive oil in a crepe pan or small, shallow frying pan over medium heat. Drizzle in some crepe batter until bottom of the pan is just covered. Cook the crepes until edges start to pull away from the pan. Use a rubber spatula to flip crepe, and cook for another 20-30 seconds on the other side, or until golden.
Remove the finished crepe, then repeat until there's no remaining batter. Heat the remaining oil in a large pan or skillet. Cook the mushrooms until tender, about 5 minutes, then add spinach, stirring for 2 minutes, or until wilted.
In a large bowl, mix together the cream of mushroom soup, half the cheddar cheese, the sour cream and mayonnaise until combined. Fold in mushrooms and spinach. Layer two crepes in the bottom of the casserole dish and top with some of the mushroom mixture. Repeat layers until all crepes and all of the mixture are used up, ending with a layer of crepes.
Sprinkle the remaining cheddar cheese over the crepe mixture. Place the baking dish in oven and bake for 20 minutes or until cheese is bubbly. Serve warm and enjoy!
Browse more Recipes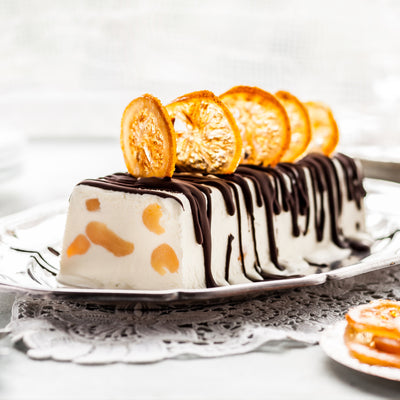 Christmas Semifreddo
Go Italian this Christmas with our Christmas Pudding Semifreddo!