Christmas Tree Macarons
Featured Product:
Spinach Powder
Shop Now
Stack these gorgeously green macarons to make your own edible Christmas tree!
Ingredients
Macarons
Buttercream
3-5
tablespoons
Double cream
Instructions
Macarons
Preheat the oven to 150C. Sift the flour, icing sugar and green powder into a mixing bowl then sift in a second time. In a separate bowl, whisk together the egg whites and sugar. Beat until a meringue consistency forms.
Add the sifted dry ingredients to the meringue, use a spatula to fold the mixture and scoop into a pipping bag once the correct consistency forms. Line two baking trays with baking paper, pipe a vairety of sized circles on to the baking paper leaving enough space between each shape. Tap the baking tray on to the work counter two to three times to release air bubbles.
Leave to rest for 20 to 30 minutes until dry then place in the oven for 13 to 16 minutes then leave to cool completely.
Buttercream
Cream the butter, add the icing sugar, vanilla extract and salt then beat until combined. Pour in the double cream one tablespoon at a time then fill a clean pipping bag with the mixture.
Once the macarons are cool, pipe a dollop of the buttercream on top and sandwich together to form a Christmas tree. Decorate with sprinkles.
Browse more Recipes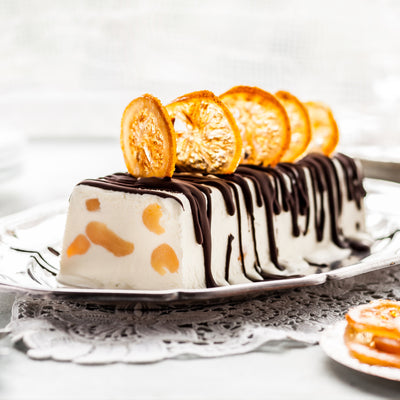 Christmas Semifreddo
Go Italian this Christmas with our Christmas Pudding Semifreddo!