Cranberry Oat Cookies
Featured Product:
Organic Sultanas
Shop Now
Enjoy these chewy cranberry oat cookies with our quick and easy recipe...
Ingredients
225
g
Light soft brown sugar
2
tablespoons
Boiling water
1
teaspoon
Bicarbonate of soda
Instructions
Preheat the oven to 170C or 150C for fan assisted ovens and tip the oats into a mixing bowl. Add the flour, a pinch of salt and the dried fruit.
Melt the butter, sugar and syrup together in a saucepan. In a jug, combine the boiling water and bicarbonate of soda.
Pour the water and bicarbonate of soda mixture into the butter mixture and mix. Pour this into the oat mixture and stir to combine.
Line a baking tray with baking paper. Roll the mixture into equal sized balls, place them onto the tray and slightly flatten.
Gently press nuts on top (optional) and bake for 13 - 15 minutes, leave to cool and enjoy!
Browse more Recipes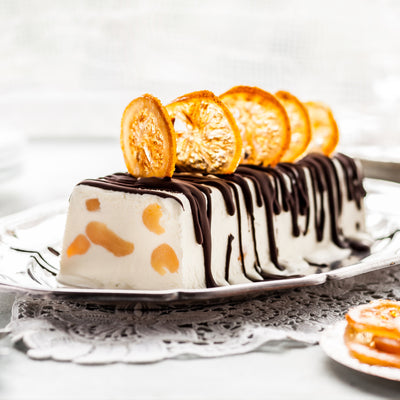 Christmas Semifreddo
Go Italian this Christmas with our Christmas Pudding Semifreddo!