Springtime Biscuits
Get creative with this simple Easter biscuit recipe using natural colours and flavour
Ingredients
Icing
2
tablespoons
Lemon juice or water
Instructions
Preheat the oven to 180C and line baking trays with baking paper. Beat the sugar and butter together until fluffy and then beat in the egg yolk.
Using a sieve, add the flour, spices and milk and combine until a soft dough forms.
Roll out the dough on a clean work surface that's been lightly floured and cut using your Easter shaped cutters.
Carefully place the biscuits on to the lined baking tray making sure there's enough space between the biscuits. Lightly sprinkle with caster sugar.
Bake in the oven for 10-15 minutes or until golden brown. Leave to cool completely before icing.
Using a sieve, add one teaspoon of lemon juice and mix in the icing sugar. Slowly add two tablespoons of water until the desired texture forms.
Divide the icing in separate bowls and add enough of your chosen powder to create vibrant icing to decorate the biscuits.
Browse more Recipes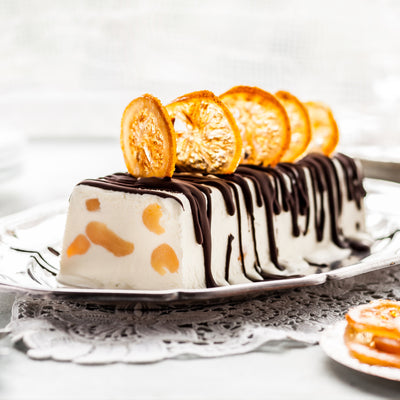 Christmas Semifreddo
Go Italian this Christmas with our Christmas Pudding Semifreddo!