Festive Tiramisu
Featured Product:
Organic Cacao Powder
Shop Now
Feel sophisticated with this classic Italian dessert recipe!
Ingredients
Ladyfinger
Tiramisu
140
g
Heavy whipping cream
Instructions
Ladyfinger
Preheat the oven to 200C and line a baking tray with baking paper. Sift the flour twice into a mixing bowl and set aside.
Place the egg yolks and vanilla in a bowl and whip until yellow and thick. Set aside.
In a clean bowl, beat the egg whites and sugar to stiff peaks. Add the whipped egg yolks to the egg whites and gently fold until some yellow streaks remain.
Add the sifted flour and gently fold in until barely combined (do not overwork!) Scoop the batter into a large piping bag fitted with a large round tip.
Pipe into long fingers across the prepared baking tray and bake for 10 minutes or until golden brown.
Tiramisu
Place ladyfingers in a baking dish, pour the espresso over them and leave to soak.
Place the egg yolks, sugar and two tablespoons of heavy cream in a small saucepan and whisk together. Place over a medium heat and whisk constantly until the sugar is dissolved and the mixture thickens. Remove from the heat, scrape into a mixing bowl and leave to cool.
In a separate bowl, beat the heavy cream to stiff peaks and set aside.
Add the mascarpone to the cooled custard mixture and whisk together until smooth. Gently fold in the whipped cream until combined and scoop into a large piping bag fitted with a large round tip.
Place ladyfingers in the bottom of the tiramisu dishes, pipe a layer of filling over the top, add more ladyfingers and top with filling until you reach the top. Scrape the top off with a knife, dust with cacao powder and place in the fridge overnight.
Browse more Recipes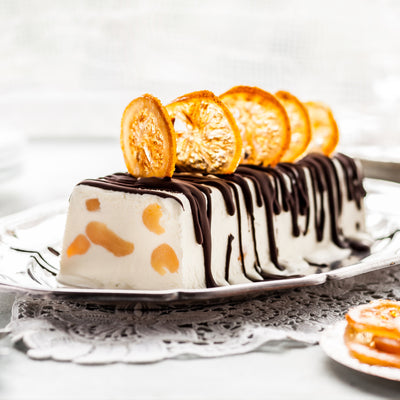 Christmas Semifreddo
Go Italian this Christmas with our Christmas Pudding Semifreddo!