Gluten Free Peanut Butter Swirl Brownies
Featured Product:
Organic Cacao Powder
Shop Now
Unbeatable gluten free brownies topped with peanut butter swirls!
Ingredients
190
g
Unsalted peanut butter
130
g
Dark chocolate chips
(optional)
2
tablespoons
Icing sugar
Instructions
Preheat the oven to 160C and line a brownie tin/square baking tin with baking paper.
Combine the coconut sugar, maple syrup, melted coconut oil and 65g of peanut butter. Tip in the cacao powder, 25g at a time while stirring. The consistency should become smooth.
Mix the linseed and water together in a separate bowl and tip in to the mixing bowl a long with the vanilla and salt. Add 35g of oat flour and chocolate chips and fold until combined. Pour the mixture in to the prepared baking tin.
In a bowl, combine 125g of peanut butter with the icing sugar. Spoon the mixture on top of the brownie batter and using a knife create swirls in the mixture. Make sure you do not over-stir.
Place in the oven and bake for 35 minutes, leave to cool completely. Once cool, place in the refrigerator for 2 hours then cut.
Browse more Recipes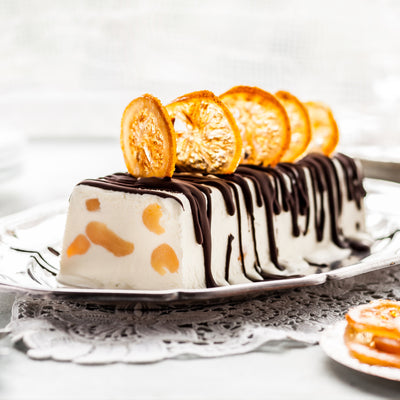 Christmas Semifreddo
Go Italian this Christmas with our Christmas Pudding Semifreddo!