Halloween Brownies
Featured Product:
Organic Cacao Powder
Shop Now
These autumn brownies will put a spell on your tastebuds!
Ingredients
60
g
Orange halloween sweets
Instructions
Cut light buttery spread into smallish cubes and tip into a medium bowl. Break the dark chocolate into small pieces and drop into the bowl. 3 Fill a small saucepan about a quarter full with hot water, then sit the bowl on top so it rests on the rim of the pan, not touching the water.
Keep over a low heat until the butter and chocolate have melted, stirring occasionally to mix them. Now remove the bowl from the pan. Leave the melted mixture to cool to room temperature.
Turn the oven to 180C/356F/Gas mark 4, while the chocolate cools. Using a shallow 20cm square tin, cut out a square of non-stick baking parchment to line the base. Sieve the plain flour into a medium bowl.
Break the eggs into a large bowl and tip in the golden caster sugar and cacao powder. Whisk the eggs, sugar and cacao powder until thick and creamy.
Pour the cooled chocolate and butter mixture over the egg mix, then gently fold together with a rubber spatula. Hold the sieve over the bowl of egg/chocolate mixture and sift the flour, gently folding in. Then add the candy and mix well.
Pour the mixture into the prepared tin. Put in the oven and set your timer for 25 minutes, until the top has a shiny, papery crust and the sides are just beginning to come away from the tin. Leave in the tin until completely cold then cut into squares to serve.
Browse more Recipes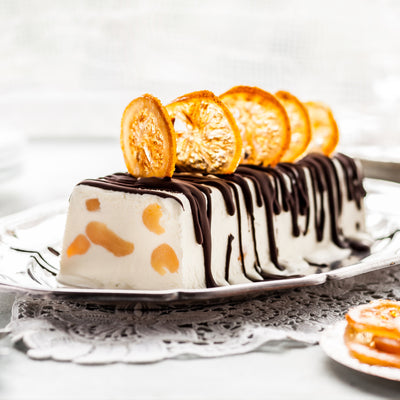 Christmas Semifreddo
Go Italian this Christmas with our Christmas Pudding Semifreddo!