Instructions
Place your dried chickpeas in a large bowl and cover with cold water. The chickpeas will expand to over double their size, so make sure you cover by several inches of water to allow for expansion. Cover the bowl with a clean towel and let them soak overnight. Drain the water and rinse the beans before cooking. Make sure you keep the chickpea water.
Add the drained chickpeas, tahini, crushed garlic, salt, lemon juice and seven tablespoons of chickpea liquid to a blender or food processor. Slowly mix together while pouring in the oil.
Blend until a smooth texture forms.
Add to a bowl and drizzle with olive oil, place left over chickpeas on top for decoration and sprinkle with paprika and chopped coriander and parsley leaves.
Browse more Recipes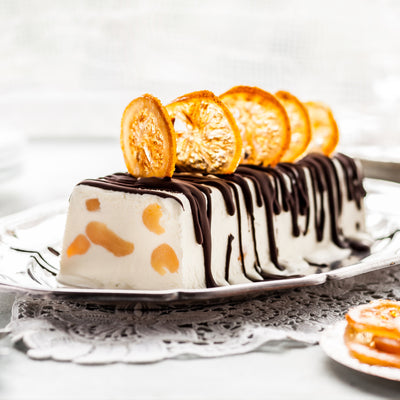 Christmas Semifreddo
Go Italian this Christmas with our Christmas Pudding Semifreddo!