Homemade Vegan Bagels 🥯
Featured Product:
Golden Linseed
Shop Now
No more store-bought bagels once you try these bad boys!
Ingredients
Bagels
1 1/2
tablespoons
Granulated sugar
2
tablespoons
Active dry yeast
Topping
Instructions
Add the sugar and 120ml of water to a jug and mix. Add the yeast to a bowl and pour over the water/sugar mixture, gently mix together and leave for 15 minutes to activate.
In a separate bowl, mix the flour and salt together. Make a well in the middle, add the yeast mixture along with the rest of the water. Mix well until a smooth dough forms (if too dry add more warm water, if too wet add more flour).
On a clean work surface dusted with flour, knead the dough for 10 minutes or until smooth and elastic. Wet the inside of a bowl with water, place the dough inside, turn to coat until moist, cover with a damp tea towel and leave in a warm place for 1 hour or until doubled in size. Once risen, punch down the dough and set aside for 10 minutes.
Cover a baking tray with baking paper, remove the dough from the bowl, divide into 8 pieces and roll each piece into a ball.
Press into the centre of the ball to form a ring, stretch the dough balls into rings then place on the prepared baking tray. Cover with a damp towel and leave for 10 minutes.
Preheat the oven to 220C, bring a large pot of water to a boil, reduce the heat to medium and lower the bagels into the water. Once they float to the top, boil for 2 minutes, flip then boil for another 2 minutes. Once all bagels have boiled, transfer them to the baking tray, brush with almond milk and sprinkle with linseed.
Bake the bagels for 20 minutes or until golden brown. Remove from the oven and leave to cool for 10 minutes before serving.
Browse more Recipes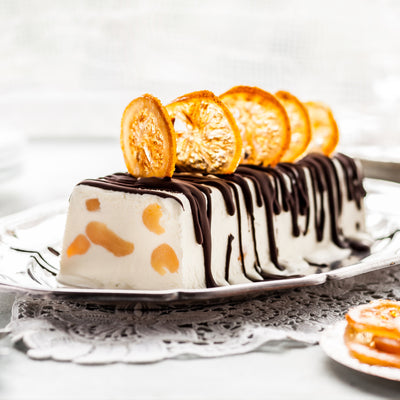 Christmas Semifreddo
Go Italian this Christmas with our Christmas Pudding Semifreddo!