Italian Salad Meal Prep 🍅
Eat good, feel good!
Ingredients
128
g
Cherry tomatoes
chopped
10 - 15
Basil leaves
torn
3-4
tablespoons
Rice vinegar
2-3
tablespoons
Olive oil
Instructions
Pour the quinoa into a fine mesh colander and rinse under running water for at least 30 seconds. Drain well. Combine one part quinoa with two parts water in a saucepan. Bring the mixture to a boil over medium-high heat, then decrease the heat a bit to maintain a gentle simmer. Cook until the quinoa has absorbed all of the water, about 10 to 20 minutes (small amounts of quinoa will be ready closer to 10 minutes; larger amounts between 15 to 20). Reduce heat as time goes on to maintain a gentle simmer.
Remove the pot from heat, cover, and let the quinoa steam for 5 minutes. Remove the lid and fluff the quinoa with a fork. Season with salt, to taste.
Add all remaining ingredients and toss very well to combine. Taste and see if salad needs more vinegar, salt, etc. and season or tweak accordingly.
Browse more Recipes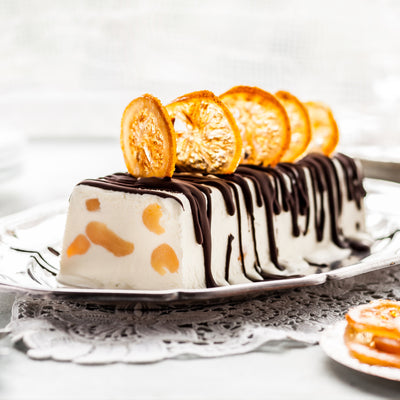 Christmas Semifreddo
Go Italian this Christmas with our Christmas Pudding Semifreddo!