Organic Mojito Popsicles
Featured Product:
Organic Chia Seeds
Shop Now
Get excited for Summer with our natural organic mojito popsicles!
Instructions
Tip the water and sugar in to a pan, mix and bring to a boil until the sugar has dissolved.
Remove from the heat, carefully pour the mixture in to a bowl, add the rum, mint leaves, carbonated water and lime juice and mix thoroughly.
Pour the mixture in to popsicle moulds and add a slice of lime and a popsicle stick.
Place in the freezer for at least eight hours. When ready to serve, carefully remove from the moulds and using a small amount of water, stick chia seeds to the top (see picture) for decoration.
Browse more Recipes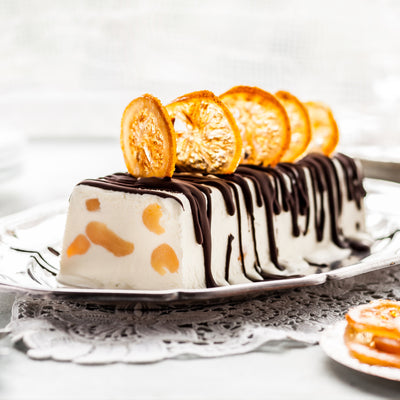 Christmas Semifreddo
Go Italian this Christmas with our Christmas Pudding Semifreddo!