Smoked Salmon Canapes
Featured Product:
Black Peppercorns
Shop Now
Tiny bites of deliciousness that are a great addition to any festive feast!
Ingredients
1 1/2
teaspoon
Lemon zest
100
g
Smoked salmon
thinly sliced
Instructions
Preheat the oven to 200C, in a bowl combine the creme fraiche, lemon zest and black pepper.
On a clean work surface lightly dusted with flour, roll out the puff pastry, using a round cutter, cut the pastry into 12 inch circles. Place the pastry circles on to a baking sheet lined with baking paper and prick the pastry circles with a fork.
Bake for 12 minutes or until golden brown and leave to cool. Once cooled, spoon two teaspoons of creme fraiche into the pastry followed by one piece of smoked salmon and top with salmon roe.
To finish, fold a layer of thinly sliced cucumber in on itself (see picture), place on top of the canape and use a tooth pick to keep it in place.
Browse more Recipes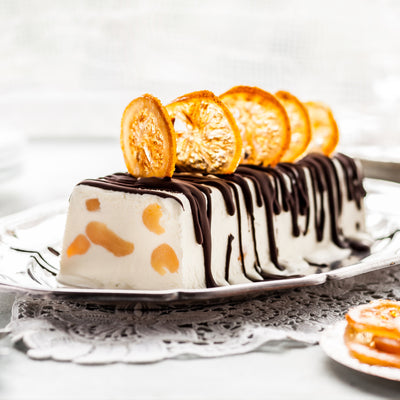 Christmas Semifreddo
Go Italian this Christmas with our Christmas Pudding Semifreddo!