Strawberry Drizzle Cake 🍓
Featured Product:
Strawberry Fruit Powder
Shop Now
Level up the everyday lemon loaf cake with a strawberry glaze!
Ingredients
Cake
2
tablespoons
Lemon juice
Icing
130
g
Strawberries
chopped
1/2
tablespoon
Lemon juice
Dried strawberries
chopped
Instructions
Cake
Preheat the oven to 180C, line a loaf tin with baking paper and set to one side. Sift the flour and baking powder into a large mixing bowl.
In a separate bowl. combine the vegetable oil, salt and sugars. Stir in the lemon zest, and milk. Mix in the lemon juice and whisk to combine.
Pour the wet ingredients over the flour and whisk until combined. Pour the batter into the prepared loaf tin and bake for 45 minutes or until baked through. Leave to cool.
Icing
Add the chopped strawberries to a clean bowl with the sugar, lemon juice and strawberry fruit powder and stir to combine. Mash with a fork, letting sit at room temperature until strawberry juice is produced.
Combine 1 tablespoon of the strawberry juice with the icing sugar and milk and pour over the cool cake. Sprinkle dried strawberry crumbs on top to serve and enjoy!
Browse more Recipes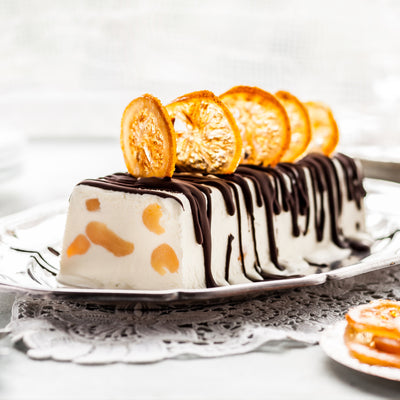 Christmas Semifreddo
Go Italian this Christmas with our Christmas Pudding Semifreddo!