Stuffed Curried Aubergines 🍆
Featured Product:
Madras Curry Powder (Hot)
Shop Now
Jam-packed with flavour, these stuffed curried aubergines and totally tasty!
Ingredients
1
Onion
peeled and chopped
2
tablespoons
Crunchy peanut butter
1
tablespoon
Mango chutney
Instructions
Preheat the oven to 190ºC, pop the garlic, onion, ginger and coriander into a food processor and pulse to form a fine paste.
In a frying pan, heat two tablespoons of oil and fry the Madras Curry Powder until fragrant (30 seconds - 1 minute). Add the paste and cook until soft, stirring constantly. Add the lentils followed by the coconut milk and season with salt. Bring to a boil then simmer until the lentils absorb the milk and are tender.
Stir in the peanut butter, mango chutney and tamarind paste, season with salt and pepper followed by a splash of water if needed.
Leaving them intact at the stalk, prick the whole aubergines all over with a fork, cut in half lengthways and stuff them generously with the curried mixture then arrange them onto a baking tray.
Cover with foil and place in the oven for 40 minutes, remove the foil halfway. When there's only 5 minutes left, top with sliced cherry tomatoes.
Remove from the oven, season with fresh basil and serve with fluffy rice, poppadoms and yoghurt.
Browse more Recipes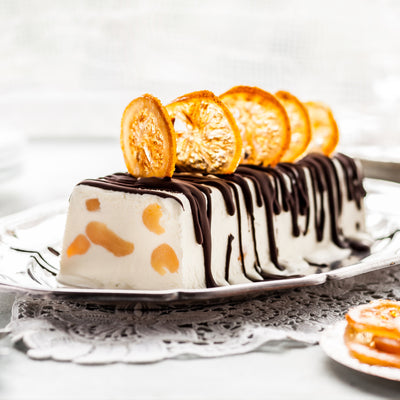 Christmas Semifreddo
Go Italian this Christmas with our Christmas Pudding Semifreddo!