Vanilla & Chocolate Ice Cream Sandwiches
Create your own chocolate sandwiches at home this summer!
Instructions
Beat the sugar, vanilla and butter together in a mixing bowl, sift half of the flours in to the bowl and mix. Pour in the milk and combine thoroughly. Sift the remaining flour in to the bowl, mix, then begin to use your hands when the mixture thickens. If the mixture is too dry, add more milk.
On a clean work surface, roll out the dough and separate in to equal balls and place on to a baking tray lined with baking paper. Flatten the biscuits with the base of a glass and place in the refrigerator for 20 minutes.
Preheat the oven to 160, bake the biscuits for 20 minutes or until golden brown. Leave to cool completely.
Spoon your favourite ice cream on to a biscuit, add another biscuit on top and roll in crushed chocolate. Serve or place in the freezer.
Browse more Recipes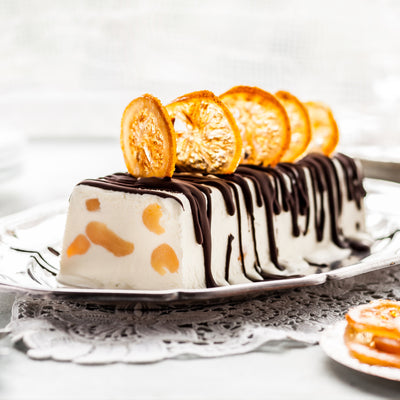 Christmas Semifreddo
Go Italian this Christmas with our Christmas Pudding Semifreddo!