Vegan Chocolate Fudge Cake
Featured Product:
Organic Cacao Powder
Shop Now
This indulgent plantbased cake is made for occasions worth celebrating!
Ingredients
Cake
1 1/2
teaspoon
Cider vinegar
3/5
teaspoon
Baking powder
Icing
3
tablespoons
Vegan butter
4 to 5
tablespoons
Almond milk
Dark chocolate
to decorate
Instructions
Preheat the oven to 180C, line the bottom of three cake baking tins with baking paper and grease the sides with coconut oil.
In a jug, combine the almond milk and vinegar, whisk in the sugar, vanilla and oil.
Sift the flour, baking powder, baking soda, salt and cacao powder in to a large mixing bowl, slowly whisk in the almond milk mixture until a smooth cake batter forms.
Separate the cake mixture in to the prepared cake tins, place in the oven for 30 minutes and leave to cool for 15 to 30 minutes then transfer to a cooling rack.
Icing
In a bowl, combine the icing sugar, cacao powder, vanilla, vegan butter and half of the almond milk. Mix until smooth, gradually add the remaining almond milk and combine.
Once the cake is cooled, place in the refrigerator for 20 minutes then you can begin assembling. Ice one of the cake layers, carefully place another on top, ice and add the final layer. Using a spatula, ice the outside and top of the cake.
Place the cake in the fridge for 30 minutes, melt dark chocolate and almond milk together until it begins to steam. Pour on top of the cake until it begins to drip down the edges.
Add chocolate on top (see picture) and return immediately to the refrigerator until ready to serve.
Browse more Recipes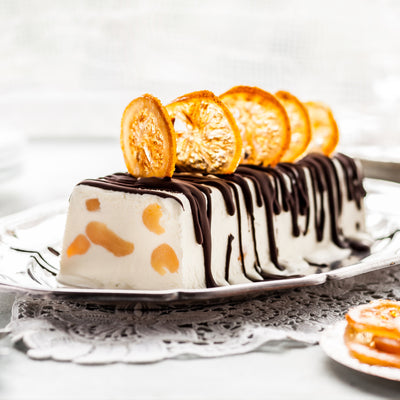 Christmas Semifreddo
Go Italian this Christmas with our Christmas Pudding Semifreddo!