Vegan Strawberry Cupcakes 🍓
Featured Product:
Strawberry Fruit Powder
Shop Now
Fluffy cupcakes topped with strawberry buttercream? Don't mind if we do!
Ingredients
Strawberry Milk
Cupcakes
5
ml
Apple cider vinegar
or lemon juice
1 1/2
teaspoon
Baking powder
Buttercream
3-4
drops of
Natural pink food colouring
Instructions
Preheat oven to 180°C, line a muffin pan with cupcake cases, slightly oil paper with oil spray and set aside.
Strawberry Milk
Hull and weigh the strawberries, then place the strawberries in a food processor or blender with soy milk. Blend/pulse into a smooth strawberry milk.
In a bowl, stir strawberry milk and apple cider vinegar together. Set aside for 5 minutes to curdle the milk.
In a separate large mixing bowl, whisk flour, sugar, baking powder until evenly combined. Stir in the milk mixture, melted vegan butter, vanilla extract. Stir with a spoon until just combined, then fold in chopped strawberries.
Divide the batter evenly into the prepared cupcake liners, filling up to 2/3 full. Bake in the centre rack of your oven for 20-23 minutes or until a toothpick inserted in the centre of the cupcakes comes out clean.
Cool immediately on a wire rack before frosting with vegan strawberry buttercream frosting.
Buttercream
In a clean bowl, combine the icing sugar, butter, salt, strawberry fruit powder and extract together. Add the food colouring if needed.
Pipe the buttercream on top of each cupcake, decorate with strawberries and enjoy!
Browse more Recipes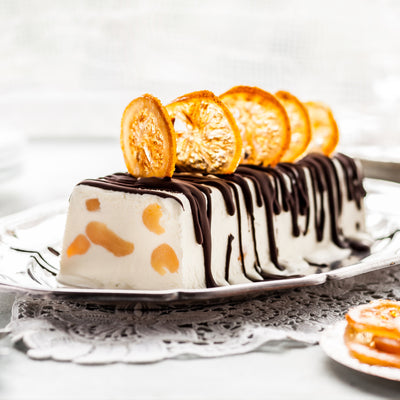 Christmas Semifreddo
Go Italian this Christmas with our Christmas Pudding Semifreddo!