Vegan Stuffed Mushrooms
A great way to use any left over ingredients, stuff those mushrooms with whatever takes your fancy!
Ingredients
Mushrooms
3
tablespoons
Sun-dried tomatoes
chopped
3
tablespoons
Parsley
chopped
Dressing
1/2
tablespoon
White wine vinegar
Instructions
Combine all the ingredients for the dressing together in a small bowl, add more salt, pepper or lemon if needed. Set aside.
Preheat the oven to 175C, remove the stems of the mushroom, roughly chop the stems of the mushrooms, brush the top of the mushrooms with olive oil, sprinkle salt and pepper inside and place them on to a baking tray lined with baking paper.
Heat a pan over a medium heat, add one tablespoon of oil a long with the diced shallots, fry until tender then add the garlic. Tip in the chopped mushroom stems and fry until browned, stir occasionally then remove from the heat and stir in the remaining mushroom ingredients.
Fill each mushroom with the mixture, bake for 15 to 20 minutes or until brown and serve with the dressing drizzled on top.
Browse more Recipes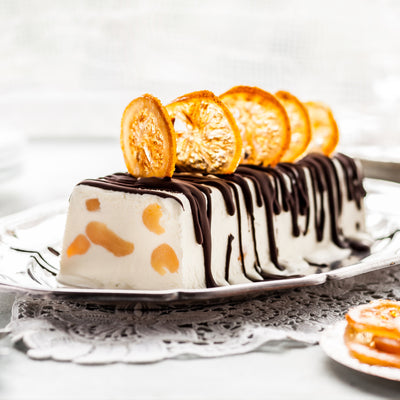 Christmas Semifreddo
Go Italian this Christmas with our Christmas Pudding Semifreddo!